---

Shaun Farrell
I've been steadily working on a podcast for the past 3 months, and it has now come to fruition. The Adventures in Scifi Publishing podcast studies the publishing business with a focus on science fiction and fantasy literature. Like most podcasts, you can listen for free, and early episodes feature Ray Bradbury, Paul Levinson, R.A. Salvatore and more. Visit the shows blog page here for more information: . You will find links to the iTunes page, the rss feed for other podcatching software, or you can listen directly over the Internet. But keep in mind that the files are big and will take several minutes to play. Please send feed to the blog page and enjoy the show! And for now I'm off to the World Fantasy Convention. Hope to bring some interviews home.
Here is Shaun Farrell's blog.
Here is Shaun Farrell's website.
See also: myspace.com/speculativefictionwriter.
---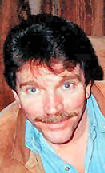 Dennis Latham
I am continuing promotion for my horror novel The Bad Season. I have received several rave reviews, including this one at the Shocklines horror website. The book continues hanging in there with sales and some good comments from readers. I'll be having two signings at some point in the near future. One is at Boswells, a restaurant-bar in the Northside neighborhood of Cincinnati, and the other will be the Mack Bookstore in Harrison, Ohio. I will also probably be speaking on writing fiction at my old high school, Aiken, in Cincinnati. I was in the first graduating class from Aiken in 1964. I'm also starting a huge editing project (three books) for A-1 Editing Service, finishing up another, re-editing my own Lord of Homicides.
Here is Dennis Latham's website.
---

John K. Muir
Award-winning John Kenneth Muir has become a daddy for the first time. Congratulations, John and Kathryn (and Joel). John says that "Joel was 7 lbs, 12 ounces at birth (and 20 inches long). He has a big mop of blond hair, long eyelashes, and his mother's nose. He's a sweet, wonderful child, but we've been absolutely walloped by the lack of sleep! I'm a zombie half of the time!"
Nevertheless, John keeps working away at his usual fever pitch. John's 'sequel' book, Horror Films of the 1980s, will be published by McFarland at Christmas 2006. His next works from Applause Theatre and Cinema Books—The Rock and Roll Film Encyclopedia and TV Year: Volume 1—are due out in May and June of 2007, respectively. John continues to edit and score his own independent TV series, The House Between (http://www.thehousebetween.com), for its Internet premiere in December. John Kenneth Muir is the author of more than twenty books about film and television, including award-winners Horror Films of the 1970s and The Encyclopedia of Superheroes on Film and Television. This month, John has an article published in Filmfax Plus—an interview with scribe Dorothy Fontana entitled "A Writer's Enterprise.
Here is John K. Muir's website.
---

John T. Cullen
My wife and I spent three weeks in New England, New York, and French Canada to celebrate our 20th wedding anniversary. Our son Andrew (almost 20) accompanied us, making it an extra special event. Besides having fabulous reunions with relatives and dear old friends, we visited the talented Andre Caron in Quebec City. Andre is the creator of one of only three existing (to my knowledge) models of ancient Rome in the world. The other two are one by Paul Bigot at the University of Caen, France, and one by Italo Gismondi in Rome. Bigot's model dates from the time of Emperor Napoleon III (1860s) and Gismondi's dates from the Mussolini era (1930s). I plan to use images of Andre's model in my upcoming book A Walk in Ancient Rome (Second Edition).
I am releasing my seasonal fantasy The Christmas Clock (Clocktower Books, Dec 2006, ISBN 0-7433-0925-1) on December 1st and am distributing review copies. The book (a slim volume) is a wry, dark, imaginative journey in the spirit of Charles Dickens' A Christmas Carol. Arthur Latchloose is a grumpy old loner who has managed to alienate his family while acquiring all sorts of antiques. He owns a bank and is quite wealthy in finances, but poor in love and spiritual matters. Then he buys a fabulous old Ottoman clock that takes possession of him as much as he owns it. The clock comes with a rather modern genie, Cuphandle, who spends a lot of time talking with the home office on his cell phone—the genie is American, since the genie job is outsourced from the Middle East. Cuphandle offers Arthur an intriguing proposition—start a whole new life, but it means wiping out the old one to make a blank slate. At first, Arthur jumps for it, since he feels he has nothing to lose. Then he remembers his lost loved ones, including wife Gretchen, and maybe he does begin to feel some regretchens. Read the book and find out what happens as Arthur ventures into a tunnel where the river of time has flowed, and which is knee-deep in lost artifacts…
Other projects include a San Diego Tour Guide, a detective novel about the famous ghost at the Hotel del Coronado, a horror novel (Doom Spore), and many others.
Here is John T. Cullen's website.
---